Who's Trying to Steal Christmas and Leave Us without Gifts? Logistics Companies?
Economists expect shipping problems to persist until 2022
Christmas Eve's coming up, and I know you must be thinking about gifts. Can you even imagine that your family and you will remain without holiday presents? But this nightmare is possible to come true because of the global shipping crisis 2021. The logistics industry undergoes serious problems with containers and suffers from staff shortage, supply chains are often disrupted. This is largely the result of the COVID-19 pandemic that has particularly stricken the basic industries and logistics is no exception.
The networks of sea transport and trucking companies are equally nearly broken down as crisis has affected all countries on different continents that are actively involved in manufacturing, trading, and transportation. For example, shipping delays from China in 2021 have enormously increased. In September, goods shipped between China and the USA via container ship took 70 days though before the coronavirus burst, it had taken just 40 days.
Thousands of containers are unloaded from a ship at the Ports of Los Angeles and Long Beach, while dozens of large container ships wait to be unloaded offshore Wednesday, Oct. 13, 2021.
Allen J. Schaben, Los Angeles Times, Getty Images
Current Shipping Issues
So why is there a shipping crisis? Why is shipping taking so long in 2021? Coronavirus caused a number of serious problems: port congestion, shipping container and labour shortages, and shutdowns of numerous ports and terminals.
Nearly 90% of the world's global trade is shipped by sea, with 70% in containers. This means it is impossible to avoid delays if this or that port is closed. Such obstacles were observed in China when the terminal at the Ningbo-Zhoushan Port, one of the busiest in the world, was shut in August because of a dock worker tested positive to COVID-19.
Crucially, coronavirus leads to a lack of human resources. Thousands of workers from different countries used to work in the logistics industry abroad. Leading logistics companies were always opened for foreign truck drivers, sailors, and warehouse workers. Actually, about 50% of sailors in the USA are foreigners. Today, they have to return home as cross-border traffic is limited for people. They are often not vaccinated, so they have no right to work in these countries. At the same time, the natives don't want to replace the migrants as they prefer to enjoy benefit rather than to work during the course of the pandemic. According to the American Trucking Association, right now national transportation lacks around 80,000 drivers.
Cargo containers stacked at Yantian port on June 22 in Shenzhen, China.
This aerial photo taken on June 22, 2021 shows cargo containers stacked at Yantian port in Shenzhen in China's southern Guangdong province. – A backlog at Yantian port – China's largest container terminal – caused by a Covid-19 outbreak among port workers will take several weeks to clear, the world's biggest shipping firm said on June 21. – China OUT (Photo by STR / AFP) / China OUT / The erroneous mention[s] appearing in the metadata of this photo by STR has been modified in AFP systems in the following manner: [June 22] instead of [June 21]. Please immediately remove the erroneous mention[s] from all your online services and delete it (them) from your servers. If you have been authorized by AFP to distribute it (them) to third parties, please ensure that the same actions are carried out by them. Failure to promptly comply with these instructions will entail liability on your part for any continued or post notification usage. Therefore we thank you very much for all your attention and prompt action. We are sorry for the inconvenience this notification may cause and remain at your disposal for any further information you may require. – China OUT (Photo by STR/AFP via Getty Images)
Cargo is piling up in port terminals, distributing stations, and warehouses often due to unavailability of crucial equipment like shipping containers. And now hundreds of containers are waiting days and even weeks for being unloaded. The shipping container crisis in 2021 is driving up shipping costs.
But despite all these troubles, WELL PACK manages to fulfill all orders made for the Christmas period. And we are open for new orders and believe we are able to fulfill them, too.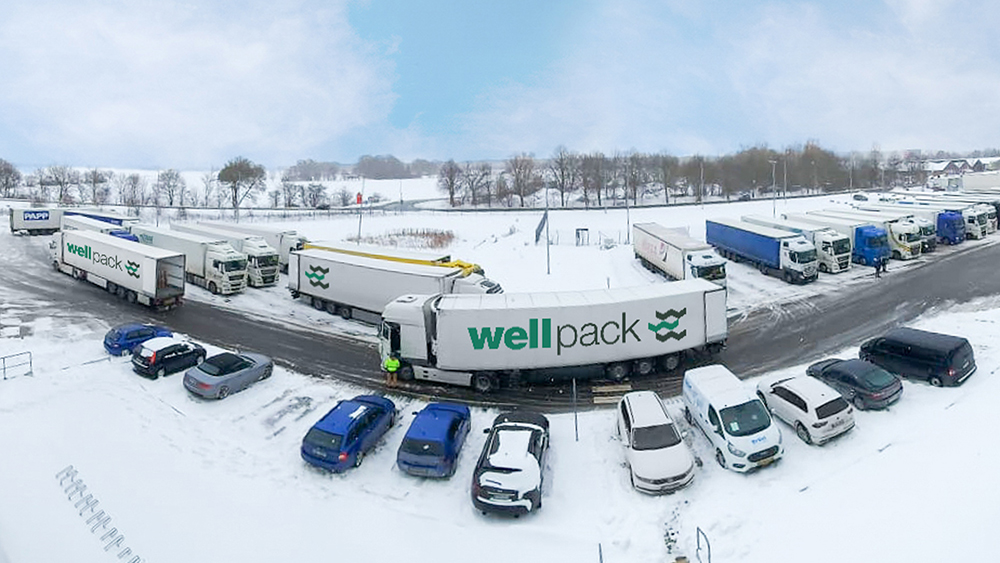 The global shipping crisis explained
Shipping problems due to Covid-19 had a devastating effect as the pandemic has revealed the weak points of the global economy and highlighted a vulnerability of the modern concept of "lean" production. It is based on the maximum reduction of costs, storage life, staff, and equipment as it is considered to be the business efficiency. As a result, the companies were not ready for new economic trends and new economic reality when all the market participants have experienced the imbalance of global trade working under extreme stress and suffering from stock and staff shortages.
Experts are predicting that the skyrocketing prices of shipping goods may hit ordinary people sooner than one may think. Freight-cost surges will boost the price of any item you are going to buy, from a cup of tea you like to drink in the evening up to a car you wanted to buy the next year.
The situation is exacerbated as now it is high time for buying Christmas gifts. This month is traditionally busy for all links of any supply chain. That is why it is not Grinch who tries to steal Christmas; these are international shipping issues of 2021 that should be solved at least in 2022 if we don't want to watch the destruction of the entire economic system.
---