8 benefits of outsourcing logistics services for your business
In today's rapidly evolving business landscape, the advantages of outsourcing logistics services have become a game-changer for companies seeking to streamline operations and achieve greater efficiency. Discover how embracing outsourcing can unlock new levels of productivity and success in the dynamic world of logistics.
What Are the Logistics Services Most Frequently Outsourced?
As a business owner, you know the value of streamlining operations and focusing on core competencies. That's why outsourcing tasks such as sorting goods, dry cleaning, and transportation is common practice among businesses like yours. At WELL PACK, we specialize in these services, utilizing advanced technologies and methodologies to ensure efficiency in every step. For instance, WELL PACK offers sorting services right in the warehouse, ensuring that your goods are sorted with precision and care.
What Is the Primary Reason for Outsourcing Logistics?
You might be wondering why logistics outsourcing is a strategic choice for businesses. The answer lies in the multifaceted advantages it offers. You gain significant cost savings, access to unmatched expertise, and enhanced scalability to meet your business needs. With WELL PACK, you can rely on our expertise in dry cleaning of goods and efficient transportation, ensuring your logistics processes are managed with the utmost professionalism.
Cost Efficiency:
Managing logistics in-house can be cost-intensive. By choosing a logistics outsourcing partner, you eliminate the need for large upfront investments in infrastructure, equipment, and personnel. For instance, outsourcing the sorting of goods to us ensures you save on setting up advanced sorting technologies while still enjoying cost-effective, high-quality services. WELL PACK specializes in removing sticker residue from plastic, offering a cost-efficient solution to a common challenge.
Expertise and Quality:
Our dedicated team at WELL PACK brings a wealth of experience and expertise to every logistics task we handle. For example, when it comes to dry cleaning delicate items, these tasks are given to our professional  dry cleaners. All outsourcing services are done with our specialized skills and state-of-the-art equipment which guarantee the best results. By outsourcing these tasks to a great logistics outsourcing partner like us, you can be rest assured that your goods will receive top-notch care and attention.
Scalability and Flexibility:
As a business owner, you face fluctuating demands throughout the year. Logistics outsourcing provides you with the flexibility to scale operations up or down according to your specific requirements. Whether you need to handle increased shipping demands during peak seasons or adjust transportation resources, logistics outsourcing makes sure your needs are met, ensuring optimal resource utilization. WELL PACK's services, including the best way to remove labels from jars and the removal of glue from containers, are adaptable to your changing needs.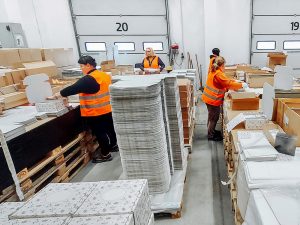 Time Savings:
By outsourcing logistics, you can delegate required tasks to experts, freeing up your time to focus on core business operations. For instance, our efficient label removal service utilizes eco-friendly solutions to quickly remove labels from bottles and jars without damaging the containers, saving you valuable time. WELL PACK's expertise in label removal and sticker removers ensures efficient and timely results.
Enhanced Supply Chain Management:
Efficient supply chain management is crucial to your business success. Outsourcing logistics helps you gain a strategic advantage in coordinating from sorting goods to transportation and storage. This results in improved customer satisfaction through timely deliveries and precise inventory management. WELL PACK's comprehensive logistics services contribute to a well-managed and responsive supply chain.
Sustainability Initiative:
We share your commitment to environmental conservation at WELL PACK. Our eco-friendly label removal methods and plastic box and pallet washing services contribute to a greener future. By outsourcing logistics to us, you actively support sustainability while achieving your business goals. WELL PACK's dedication to sustainability aligns with your values and objectives.
In embracing logistics outsourcing, your business gains a competitive advantage, elevating overall performance and propelling growth. It empowers you to stay ahead in today's dynamic marketplace, ensuring your business thrives amidst evolving challenges and opportunities. By partnering with a specialized provider like WELL PACK, you can harness the full spectrum of logistics services to optimize your operations and achieve lasting success.